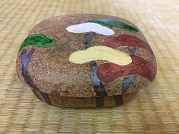 This is  "Kenzan  Lidded Dish with Pine Tree"
Kenzan stands for Kenzan Ogata, a legendary potter, who was active in Kyoto in the middle of Edo Period.  His elder brother is Korin Ogata, a famous painter.    As a homage to Kenzan, we have produced a series of pottery with Kenzan drawing. This is one of them.
The pine tree is a motif that has special meaning for the Japanese people. Its evergreen color is a symbol of eternity in Japan.
Kenzan modernized such traditional motif with the vivid colors and unique arrangement.
Furthermore, if you open the lid,  you can find an another drawing on the back surface !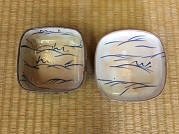 It is  just amazing that an earthenware with such modern design was created more than 300 years ago.
You can find those potteries of Kenzan drawing in our showroom Wakuwaku, located in right before sanmon gate of Sennyu-ji, Higashiyama, Kyoto.
---