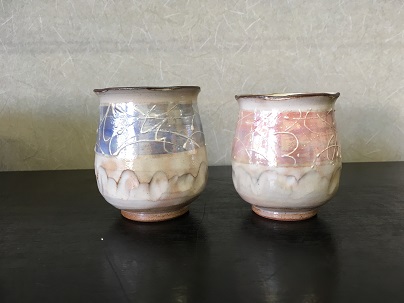 One of our guest from Australia looked at these Japanese tea cups and asked us which kind of technique  we use for .  This is Slip trail  decolation technique called "Icchin". You trail slip (liquid mixture of clay) on the surface of the potteries.  
Seeing is believing but unfortunately no chance for them to see slip trailing during their visit so I just explained with gestures "its like icing for cake" so they understood.
The "Icchin" decolation is effective not only for elegant looking but also such uneaven surface prevents from slipping since Japanese tea cup does not have hold.
You can find pretty (or Han-nari) shiny colored Japanese tea cups or rice bowls with the Icchin decolation technique at our show room "Waku-waku", Sennyu-ji, Higashiyamaku, Kyoto.
---