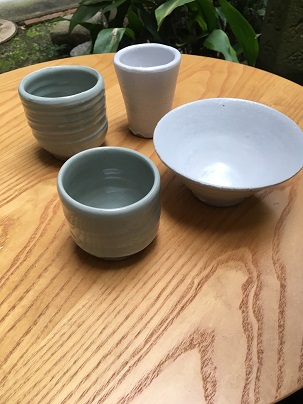 These Japanese tea cups and rice bowl are formed by our guests. Then, glazing was done by our professional with the color of Ceradon and White selected by the guests.   The colors go well with the simple round shape.
In Wheel Throwing course, mostly the guests failed for a few times at the start.  Don't worry. Since the clay is soft and flexible, you can try again and again.  Once you get a hang of it, you can concentrate on forming.
If you are interested in pottery making, please visit to our studio "Shunzan-gama" Higashiyama, Kyoto.
Artisans in our studio are generous so you can ask whatever you would like to know.
---