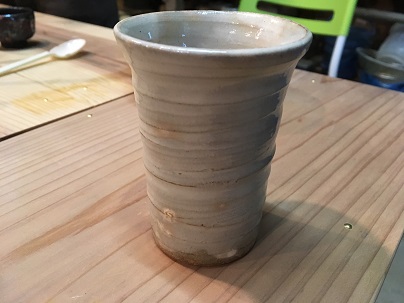 This freecup was formed by our guest who visited our studio to experience pottery making in Kyoto.  It was the first time for her to do Wheel Throwing but created two items within one hour.
We have applied glazing (white and transparent) then fired.
Can you see pale orange spots here and there over the surface of the cup ?
This is called "Gohonde" which appears due to reduction of oxigen in the kiln during firing. Since this appears by chance, you can not have the same spots next time. This is one of difficulties/interesting of pottery making.
Below is small bowl.  After shaping by Wheel Throwing, these dimples at lip were added by touching with finger.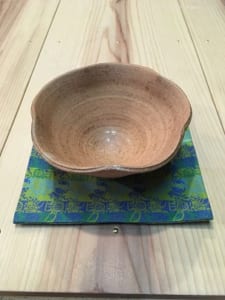 Wheel throwing is for round shape. If you want to make other shape such as slab plate, we recommend you to try our hand building course.
Comment
---